First and foremost, as soon as a spill occurs, you should take a paper towel and dab the stain up off the carpet. Try not to push or rub the stain further inside but rather let the stain catch the paper towel using the dabbing technique. Next, bring a wet warm towel and again use the dabbing technique to try to lift up as much of the stain as possible.
Please do not use any products like Folex stain remover, oxy-clean, and especially not baking powder or soda. These products are not successfully able to remove the stain, they will permanently dis-colorate the carpet or fabric. If you have already attempted this then the only solution left is to call the professionals at 905-595-0912. As long as the stain is still wet and within 24 hours, we are able to rescue the carpet and remove the stain.
One thing we must mention is that there are different types of stains and then there are des colorants. Stains can be removed but des colorants are permanent. Examples of simple stains are Milk, Coke, kid's watermarks, and pet urine, more complicated stains which are very close to des colorants include things like ink, paint, kool-aid juice, red wine, coffee, or tea. These complicated stains sometimes come out very easily or sometimes do not budge whatsoever, the reason being that the dyes or color within these products transfuse into the fibers of the carpet and make it impossible for removal especially if they have been sitting for some time. !
We must also mention that stain removal is a very complicated process and requires the use of industry-leading products but more importantly, the technicians have to have a lot of experience with all types of stains, and Royal Carpet Cleaning is completely skilled for this job.
At Royal Carpet Cleaning we recommend that if something like red wine is spilled, rather than you personally trying to remove the stain call the professionals so that we may come as soon as possible and rescue the stain to increase the chances of the stain disappearing.
In similar news, we would like to tell all our customers that we will be very shortly introducing our special label stain remover. They will be ready to hand out to our customers after completing the job to help tackle any stains and tough spots between the cleaning schedules. This product will be a special dry stain remover, meaning you can just spray and wipe or brush the stains away!
In these two pictures, you can see the clear, before, and after results for a red wine stain. The customer had used oxy-clean at the time of the spill but called us right at 8 am the next morning. We were able to come by the same morning and successfully removed the stain 100%.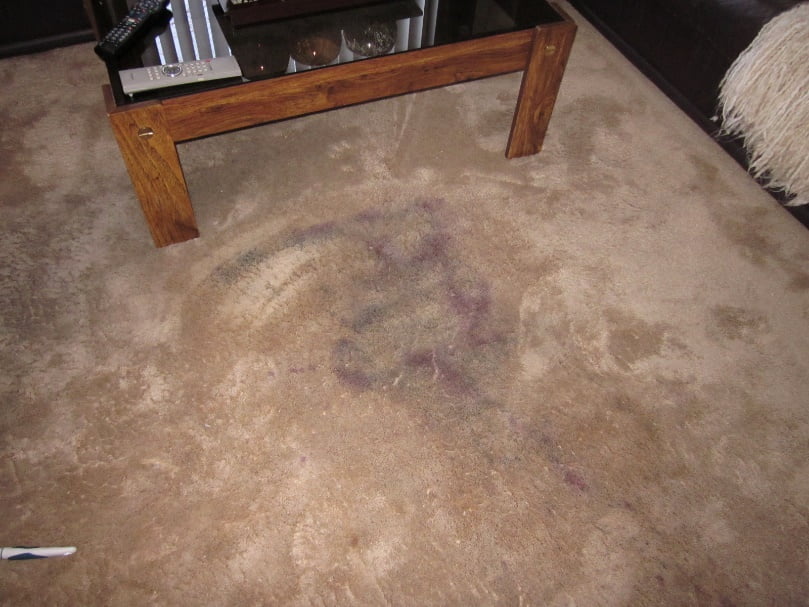 She mentions: "Wowwww, no words to describe the level of professionalism that Royal Carpet Cleaning showed. I had no hopes of the stain completely disappearing. We thought that perhaps it will come up a little bit Royal Carpet Cleaning made the whole stain disappear. I was even more surprised when one of the technicians post-phoned his personal plans to come out to my house on a Sunday morning. This proves that Royal Carpet Cleaning is serious about its reputation and I only have good words for them. Cheers," Rosanne from Mississauga