Over time, odours from a variety of sources accumulate and impregnate your carpet fibers and furniture fabric. Odours from cooking, spills and stains, and pets, can leave a foul and lingering smell inside of your home. Ask about upgrading your cleaning with a deodorizing and disinfecting treatment. Also, if you have experienced extensive water damage, we can help you with the cleanup and deodorizing process.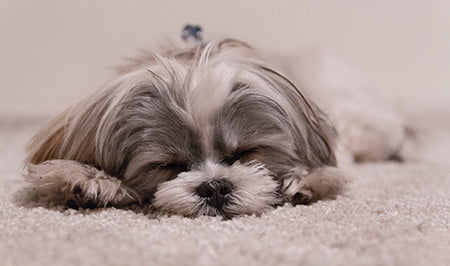 Pet odour removal from carpets
Training your cat or dog to not urinate on your carpet can be a difficult and daunting task. The odour and stains that are left behind are difficult to wash away and disinfect by hand. Like any other spill, pet urine can sink deep into your carpet fibers. Properly deodorizing and disinfecting these stains is an essential and necessary component of carpet cleaning.
Our qualified carpet cleaners will work hard to ensure all pet urine is removed, deodorized, and fully disinfected.
Cooking scent removal from carpets
Every culture has a unique way of cooking. Some cooking processes are lengthy, while other meals are quick to prepare. Ingredients are also unique in the scents they release while being cooked. Spices and various oils have scents with a tendency to stick to carpet, clothes, upholstery, cushion fabrics, and even on your skin! With every carpet or furniture upholstery cleaning, we will deodorize and disinfect at the same time, removing foul scents and lingering odours from your home.
Royal Carpet Cleaning
"High quality, expert service"
Eco-Friendly Green Products